COURSE ON SKILLS FOR COMMUNICATION WITH PEOPLE WITH HEARING LOSS CLASS 72 – SESSION 4
On April 16, 2023, Ms. Duong Phuong Hanh - Director of Center for Research and Education of the Deaf and Hard of Hearing (CED) trained Sign Language – Basic Level for 31 participants, including 15 students majoring in, Social Work, Education, Nursery, Linguistics, Communication and Public Relations and 16 participants who work in areas of Education, Health Care, HR, Social Activities, Communication, …
Sign language is one of two themes in the training program on Skills for Communication with People with Hearing Loss (Deaf, Hard of Hearing, Late Deafened). The second theme is lip reading.
In the fourth session, participants:
- Learned sign language on the topic of School.
- Practiced communication.
- Learned sign language of the song ""Family – We love each other" and the poem "My School".
Classes are held periodically on Sunday mornings.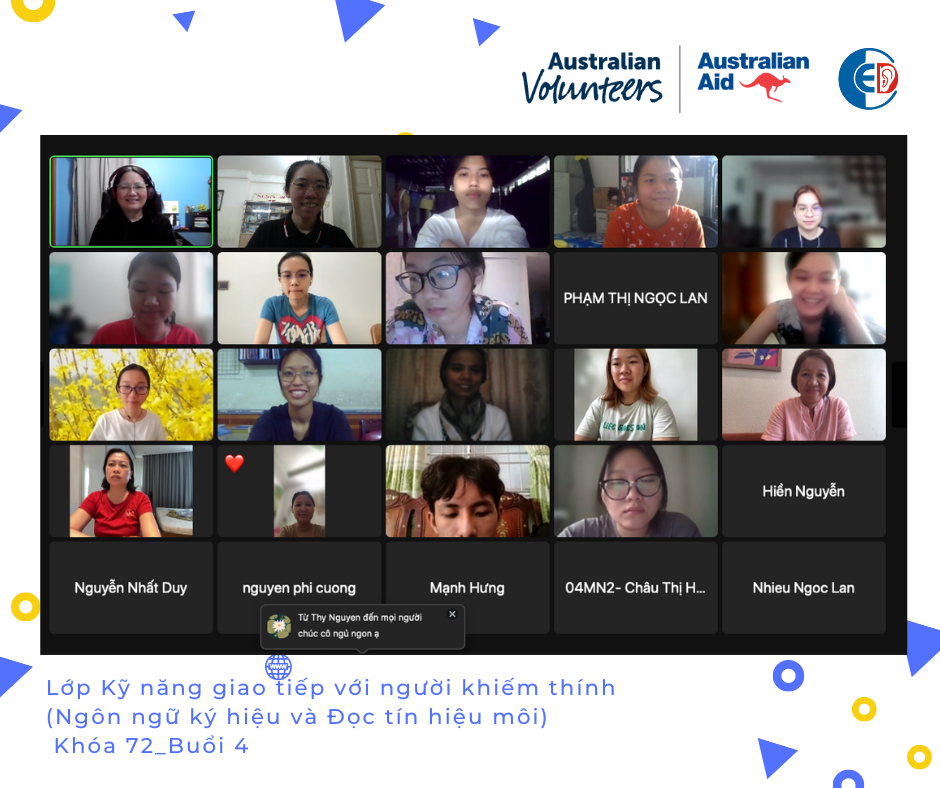 --
Class 72 is the course in the framework of the project "A world without barriers for the Deaf/Hard of Hearing people, sponsored by the Impact Fund of the Australian Volunteer Program (AVP) and implemented by the Center for Research and Education of the Deaf and Hard of Hearing (CED) in the year 2022-2023.
Related projects in process